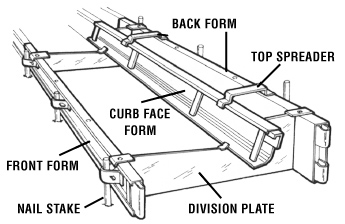 Description
OCM Curb and Gutter Forms offer many time and labor saving features. OCM Steel Flatwork and Curb and Gutter Forms can be used for driveways, sidewalks, patios, parking lots, commercial floors, and some light weight paving. Using OCM Curb and Gutter Forms can save labor versus traditional methods, save money on lumber, and last for many years.
Components of a Curb and Gutter Form System
Back Form
Front Form
Face Form
Division Plate
Top Spreader
Types of Straight Curb Forms
Vertical Face - A setup with the front and back of the curb both being at 90° angles
Battered Face - A curb face with the back of the curb at a 90° angle and the front at less than a 90° angle
Bottom Radius - A battered curb face with a single radius formed into the bottom of the curb
Top and Bottom Radius - A battered curb face with a radius formed into the top and bottom of the curb
Drive Over - A curb face with a slow gradual batter allowing traffic to pass over
Specifications and Sizes
Available in heights from 4" to 7-1/2" in 12 gauge steel
Available in heights from 4" to 24" in 10 gauge steel
Comes in standard 10 ft. lengths with either 2" or 4" bases
Flatwork Forms come with either 2 or 3 pockets on up to 12" height, and only 3 pockets for heights over 12"
Custom Forms are available in 1/2" increments
Comments:
OCM Limited Warranty
All recommendations, statements and technical data contained herein are based on tests we believe to be reliable and correct; however, accuracy and completeness of said tests are not guaranteed and are not provided as an express or implied warranty. User shall rely on his or her own information and tests to determine suitability of the product for the intended use and user assumes all risk and liability resulting from his or her use of the product. In the event that a product supplied by OCM, Inc. proves to not meet the OCM, Inc. published dimensional or other specifications of the product, an OCM, Inc. representative will review such product and circumstances to determine whether a replacement is warranted. OCM, Inc.'s and its manufacturer's sole responsibility shall be to replace, at OCM, Inc.'s sole discretion that product or portion of the product which OCM, Inc. deems to be defective, within six months of the delivery of the product. OCM, Inc. disclaims all other warranties or conditions, whether express or implied, including an implied warranties of merchantability or fitness for any particular purpose. In no event shall OCM, Inc. or its parent or affiliated companies be liable for delay caused by defects, for loss of use, or for any indirect, incidental, special, or consequential damages or for any charges or expenses of any nature whatsoever. In no event shall OCM, Inc.'s liability exceed the purchase price paid for the particular affect OCM, Inc. products.
OCM, Inc.
1120 Peterson Road, Grayslake, IL 60030
Toll Free: 866-457-5710 • Phone: 847-462-4258 • FAX: 847-462-4259
sales@ocm-inc.com